75,000+ Applications To Join
November 2014
Each day between 10 and 15 people typically apply for membership to The Syndicate. A bit over 4,000 applications come in to join the guild each year. In our past 18 1/2 years of we have seen over 75,000 people apply to join the community. In the very early years joining was very simple. If you had an email address and applied, you got in. Fortunately we became much smarter about recruiting and for well over a decade we have recruited poeple who meet a series of requirements. Those include things like needing to me 18 years or older and active within a game we recruit new members for. They also include things like needing a referral from an existing member and having a gaming focus and personality that are compatible with the community. That does mean the vast majority of those 75,000 applications were rejected but it also means that our community is the exception to the norm within online gaming. Specifically that means there is almost no turnover. When we recruit someone, they know what they are joining and they want to be here long term. Thus, in most cases, they are a member for years. That focus has allowed us to virtually eliminate drama and grow a massive set of institutional knowledge and loyalty to the group. LLTS!
SyndCon 2014
August 2014
In early August, the 13th annual Syndicate World Conference (known as SyndCon) took place just outside Universal Studios in Orlando, FL. Around 200 Syndicate members, guests, VIPS and family attended. Alienware sponsored the annual LAN event. A giant "raid" on Universal Studios took place. Karaoke Night was a hit. The green knight at Medieval Times was revisited 11 years after our initial relationship with him was forged. This year at synDCon, Starr Long came to talk about Shroud of the Avatar to obtain feedback from the crowd on features and plans for the game. Broadsword came to talk about their plans for Ultima Online. KingsIsle was in attendance to talk about Wizard 101 and Pirates 101. Check out coverage of the event in the Articles section of this site.
A New World Record!
March 2014
The Syndicate was just awarded a new Guinness World Record for "continuous operation" as an Online Gaming Guild. The new record reads "With a documented history stretching back to at least February 1996, The Syndicate (www.LLTS.org) is the longest-running online guild, with 17 years, 8 months, and 26 days of continuous operation as of 28 October 2013." and can be seen online at the
Guinness World Record website
. Although set back in October, it takes many weeks to get through the detailed Guinness review process of the evidence to award a new record so it was just awarded in March of 2014.
For us, setting this record is special for a number of reasons. It represents an achievement that is statistically extremely hard to accomplish in the online gaming space. Guilds, in general terms, are so fleeting and so tenuous that surviving a year is a big accomplishment that a community should take pride in. Surviving 5 years is virtually unheard of. If you survive a decade then you are among the oldest guilds that exist. Surviving and thriving for over 18 years is so rare its useful to compare it to things we all know the 'odds' of happening a bit more clearly. By our conservative estimation, close to 66,000,000 guilds have been created and have ceased to exist. The real number is likely much higher but using that as a baseline, and knowing the odds of being struck by lightning, if you live in the United States are about 1 in 1.1 million, then you are about 59 times more likely to be struck by lightning than to be in a guild that lasts over 18 years. You are about 5 times more likely to be attacked by a shark or to become President of the United States. So, from an 'odds' standpoint, this record is a big deal to us because of the rarity.
Read more about the record on the
history
link of this website.
The Syndicate Celebrates 18 Years!
February 2014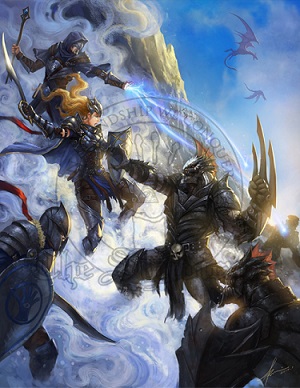 The Syndicate is proud to celebrate 18 years as a gaming community. As the oldest, continuously operating online gaming community, we have over 21,000 combined man-years of gaming experience. 66 million other guilds have risen and fallen during the era of The Syndicate. Over 65,000 people have applied to join The Syndicate although only a few have been accpeted. We are very proud of our tradition of excellence; our ability to consult for developers providing feedback and testing; our unity as a team of friends and in the success of our community that transcends the virtual world. Each year is a series of new opportunities; new ways to reinvent ourselves and exciting challenges present themselves for the team to work together to overcome. As such we are sure our 19th year will be another exciting one as games like EQ Next Landmark, Shroud of the Avatar and Elder Scrolls Online prepare to launch. Long Live The Syndicate!