Introduction

Established in early 1996, The Syndicate® is the most successful Virtual Community in the history of Online Gaming.
We specialize in Game & System Testing, Strategy Guide Writing, Consulting On Systems Design and Round Table Feedback. We are a very well organized, professional, mature organization that has been involved with MMO projects for many years. The quality of our work and our ability to deliver on time and maintain the secrecy of the projects we are currently working on is one of our hallmarks.
In addition to Game Development focus, we have a strong focus on growing our community, building friendships and in making the online gaming community better for all gamers. We regularly provide free feedback and testing to our developer friends to help create better "next gen" gaming content. Our engagements range from casual to very formalized and are a way for us to provide free support for game developers that leverages our passion for gaming and years of experience to make games better for all players.
By the time most MMORPGs launch, The Syndicate has been playing them for months (and in some cases for well over a year) as part of one of our engagements. We usually maintain an "outpost" within those games of current Syndicate members while the bulk of the guild moves onto our next major project. We do not add new members for games we only maintain an outpost in. We have actively played just about every game including, but not limited to: EQ & EQ2, Warhammer, Conan, LOTRO, DCUO, Rift, SWTOR, Aion, DDO, Wizard 101, Runescape, DAOC, Eve Online, Shadowbane, Tabula Rasa, Planetside and PoTBS to name a few. Syndicate outposts cover the landscape of MMORPGs. We only actively recruit new members for our presences in three major MMOs which are the worlds of Ultima Online, World of Warcraft and Star Wars The Old Republic. We have begun to downsize our WoW presence going from over 500 active members (with 2,000+ characters) to around 200 active members in 2011. Our UO presence is also around 200 active members. Our SWTOR presence is around 350 active members. There are around 500 active members participating in our consulting, testing and guide writing teams. You can get more details in our
Syndicate Extended Game Support (S.E.G.S.)
section of this site.
The Syndicate isn't a guild, we are the industry leaders in gaming excellence and the most successful virtual community in the history of online gaming.
There is far more to share about The Syndicate and what we stand for. Come in and explore our site. Read about our rich history, browse articles written about us, check out our Charter and FAQ to learn what makes us tick, read about the games we are a part of and much more. Step inside, for The Legend of The Syndicate awaits..

News

The Syndicate Celebrates 18 Years!
February 2014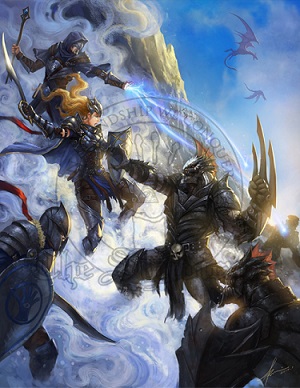 The Syndicate is proud to celebrate 18 years as a gaming community. As the oldest, continuously operating online gaming community, we have over 21,000 combined man-years of gaming experience. 66 million other guilds have risen and fallen during the era of The Syndicate. Over 65,000 people have applied to join The Syndicate although only a few have been accpeted. We are very proud of our tradition of excellence; our ability to consult for developers providing feedback and testing; our unity as a team of friends and in the success of our community that transcends the virtual world. Each year is a series of new opportunities; new ways to reinvent ourselves and exciting challenges present themselves for the team to work together to overcome. As such we are sure our 19th year will be another exciting one as games like EQ Next Landmark, Shroud of the Avatar and Elder Scrolls Online prepare to launch. Long Live The Syndicate!
SyndCon 2013
August 2013
In late August, the 12th annual Syndicate World Conference (known as SyndCon) took place just outside Washington, DC. 200 Syndicate members, guests, VIPS and family attended. Alienware sponsored the annual LAN event. This year at synDCon, Richard Garriott came to talk about Shroud of the Avatar to obtain feedback from the crowd on features and plans for the game. Roberts Space Industries came to talk about Star Citizen. Zenimax came to talk about Elder Scrolls Online. City State Entertainment had a large presence to discuss Camelot Unchained. Electronic Arts came with some of the development team to discuss the current state and future plans of Ultima Online along with Ultima Forever. Check out coverage of the event in the Articles section of this site.